As an Amazon Associate I earn from qualifying purchases.
Halloween window skeletons are a great way to decorate the home both inside and outside. Scary window decorations highlight the season and bring in the spooky mood indoors as well as outdoors. Passers-by will love to look at your windows and discover some or your spine chilling ornaments. Both kids and grownups enjoy making Halloween crafts. And that is exactly what you are going to find here: ideas for you to make window skeleton lanterns.
How to make Halloween window skeletons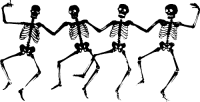 A first craft idea that come to mind when doing Halloween window skeletons are the lights. The word "lights" sounds good these days since you do not have to lit candles any more. Indeed battery operated lights enable you to use and even abuse of such ornaments safely. If you have a window support large enough to place several Halloween lanterns, then this fun craft for you.
Lunchbag Halloween window skeleton lanterns
Here are the directions to make these make window skeleton lanterns for your window. These are very simple yet fun to make out of lunch bags. Here is how to proceed.
Get paper lunch bags,
Draw skeletons on both sides of the bags (try to make them all different. For example, a dancing skeleton, a sitting skeleton, etc.),
Cut them out with a cutter knife so that you ensure the form of the bags is kept intact
Then paint the bags black,
Fill the bags with sand and place the tea light in the sand,
Turn the candle lights on and place them on the window support.
Tip: you can even use colored transparent plastic that you glue in the inside of the lanterns so as to provide them with a colorful look.
Skeletons aren't the only shapes you can use to make your Halloween lantern, but if you have enough bags, you can create as many different Halloween lanterns as you want: pumpkins, ghosts, bats, spiders, etc.
Try a pumpkin lantern variant…
Enjoy the scary look of your new skeleton lanterns this Halloween.
Ligthed 3D Halloween Skeleton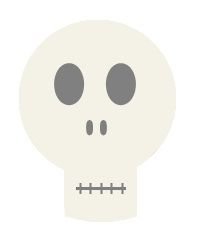 Another great devilish holiday craft idea is to make Halloween window skeletons out of styrofoam.
Draw skeletons on a piece of Styrofoam
Cut them out with a cutter knife
Stick the skeletons on the lunch bag you're painting black
Fill the bag with sand
Place a tea light on the sand.
Now you have a collection of macabre 3D Halloween window skeletons to decorate your windows and surprise anybody passing by your home.
Materials you need to make these Halloween crafts
Before you start creating these cute but creepy Halloween window crafts, ensure that you have the needed materials on hand. The following items will be indispensable for you to let your creativeness go wild. Most of them can be found at your local craft shop or in any online store.
Decor Sand 28oz/Pkg-Light Brown
ALEENES 15599 All Purpose Glue, 8-Ounce
Darice Retractable Razor Knife Set, Assorted Color
Nasco BulkKrylic 8 Piece Acrylic Polymer Artist's Paint Set, 8 oz Bottle, Grades 2+
Paper Lunch Bag – 50 Count
Instapark® LCL-48 Battery-powered Flameless LED Tealight Candles, 4-Dozen Pack
---