As an Amazon Associate I earn from qualifying purchases.
How to celebrate a kid's birthday in October
Beistle 60717 Plush Birthday Cake Hat
&
One of the most enjoyable and challenging things to do in October, is to plan a Halloween birthday party for kids. Such party is enjoyable because Halloween is all about fun.
However it is challenging at the same time because it requires to plan long ahead and a whole bunch of things since it is a mix of a birthday party and of a Halloween party.
Moreover, things can become harder if you host a birthday party on Halloween day.
Luckily, with some control and good preparation, a Halloween birthday party can be the best party you've ever threw. is also the best party ever.
Here we are going to cover some indispensable measures to take to make your party a successful one.
First Steps to Take When Planning a Halloween Birthday Party for Kids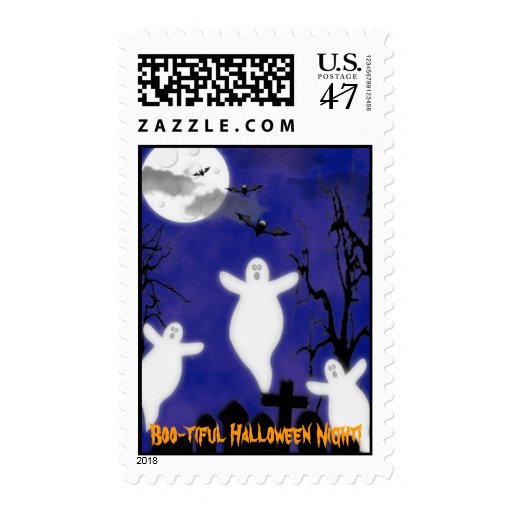 Boo-tiful Halloween Night Stamp

&
Before doing anything else, the very first step you're going to take when planning a Halloween birthday party, is to decide where the party is going to be held.
Once the decision is made, you can start planning the event. The best way to do so is to make a list with the measures to take.
* How many children are you going to invite to the party,
* How long is the party going to last,
* How many parents are going to attend the party with their kids, etc.
Then, you are going to start building your shopping list.
Sending Halloween Party Invites
In order to make sure that your potential guests won't attend another party than the one you're planning, you're going to send your Halloween birthday party invites at least four weeks ahead. This is indispensable, especially when if you host your party in the end of October as those days are filled with dozens of parties and you're at the risk of having your guests to accept another invitation.
Halloween birthday party invitation cards can be found online; which makes the process of sending invites easier than ever. Obviously, if you plan to get a birthday party set, you might find a set of invites included in the pack; which will allow you to save time on choosing an appropriate card design.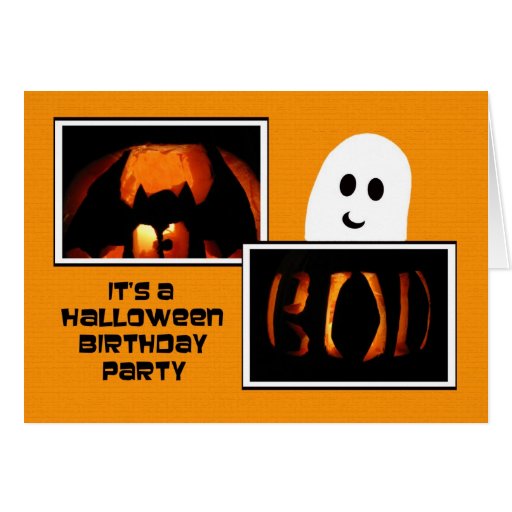 Halloween Birthday Party Invitation

&
Halloween Birthday Party Decorations
Decorating the house for Halloween is really fun and if you host a Halloween birthday party close to the end of October, chances are that your scary decor would be ready.
Whenever you host a Halloween themed birthday party long before October 31st, you can decorate the yard with some tombstones made out of styrofoam as well as some lights, ghosts, bats that you hang in the trees. This will allow you to have a part of your Halloween decor ready.
Regarding indoor Halloween decorations, set up the mood with some spider webs, mummies and other scary decorating items. I built a page with some homemade scary Halloween window decorations and homemade mummy tutorials; which will enhance the overall look of your home.
Halloween Birthday Party Sets
Time has come to think about the food you're going to serve at your Halloween birthday party. The current birthday party rage are cupcakes and you will probably decide on baking some for the kids who are going to attend the party.
Cupcakes are ideal treats for birthday parties as they don't require from the kids to sit on a chair round the table and allow them to keep playing and/or having fun while eating their small cake. Here are a few pages that will provide you with some typical Halloween cupcake recipes as well as the best Halloween cupcake decoration ideas.
Kids will enjoy the vision of Halloween beverages such as fruit punch that you turn into a witch-poison by adding green food coloring, eyeballs made with lichee's and maraschino cherries, as well as dry ice. This will turn your punch bowl into a witch cauldron!
No matter you prepare cupcakes or a big cake, make sure to get a paper party set: this will avoid any broken cup or plate and keep you from having the dish wash to do afterwards as you'll just have to throw everything away.
And because it's a Halloween birthday party for kids, I suggest to get a Halloween themed dinner set to bring the Halloween spirit to the rooms where the party is held. There are some fantastic party sets especially made for Halloween out there and many of them even include party favors.
What are party favors? Party favors are generally small boxes containing a few items that provide your guests with a little gift for having come and take part to the party.
Perfect Halloween themed party set for kids parties, the Halloween Fun Friends Deluxe Party Kit provides your party with brightly coloured monsters, witches, spiders and other Halloween symbols.
The pack includes paper plates and cups for 8 persons:
8 dinner and dessert plates (can work for 16 persons if you just serve cake or cupcakes); 8 cups; 16 napkins; a set of 24 pieces of cutlery made out of plastic; 1 table cover; 1 Halloween themed centerpiece; bat and pumkin-shaped confetti pack; 18 balloons in three different colours; 3 crepe streamers and 3 curling ribbon rolls.
One of Halloween's symbols is the pumpkin; which you find in any kind of form, whether as simple decoration in the garden or advanced carved Jack-o-Lantern. And so, Halloween Party Deluxe Party Kit will work wonders for an October birthday party.
The kit is set for with 25 guests; which is excellent if you host a very large birthday party:
25 dinner an dessert plates; 25 pumpkin paper cups; 50 napkins; 1 set of 96 orange cutlery pieces; 1 very large plastic table cover; 1 centerpiece featuring bats and pumpkins; 1 pack of black confetti; 6 printed balloons; 12 monochrome ballons (black and orange); 2 crepe streamers; 2 curling ribbon rolls.
Made for those who definitely enjoy the creepy Halloween spirit, Creepy Webs Deluxe Party Kit is a set for 8 guests.
Dominant colour is purple but there are additions of orange; which is the colour of Halloween as well as black; which is a creepy colour.
Here's what comes in the pack:
8 square dinner plates and dessert plates; 8 paper cups; 18 matching napkins; 1 set of 24 pieces plastic cutlery set (orange); 1 large table cover made out of plastic; 1 3D candelabra-shaped centerpiece; 1 bag of spider sprinkles for the table; 6 x 3 colors latex balloons (black; purple and orange); 3 crepe streamers and 3 curling ribbon rolls (black, purple and orange).
Halloween Party Favor Ideas
Children Halloween Birthday Party Games
If you want your kids Halloween birthday party to be a hit, you're going to plan a few activities and games. If you have enough space in your house, you can prepare a room for the most popular Halloween game: bobbing for apples.
Another fun Halloween game is to wrap someone with mummy wraps – you can use toilet paper for such a purpose. Here is the principle of this game: children form small groups and choose someone they're going to wrap. The first group who finishes to wrap their mummy wins the party.
A different idea to bring the fun to your children Halloween birthday party is to hold a costume contest. The ideal costume contest is the one in which all contestants get a prize. Whenever you plan one, make sure to mention it on your Halloween party invitations so that parents can get a costume for their kids on time.
Set Up the Halloween Mood to your Kids Party
Kids Dance Party: Halloween Jams
&
A great way to set the mood to a Halloween birthday party is to create some play-lists that you can play when guests arrive. If you're clueless what the best Halloween music is, online stores provide you with ready-made Halloween CDs for children. Have the children dance to the sound of the Monster Mash and "monster-ish" tunes.
Another great way to bring the Halloween spirit to the party is to set up some sound effects; which can also be found in any good Halloween costume store. Fog machines or bubble machines are also a fantastic way to entertain your guests on a Halloween party.
In the same vein, you can ask one of your guests to prepare a Halloween story to tell the children during the party. Just ensure the story isn't too terrific: it's a birthday party for kids, not for adults.